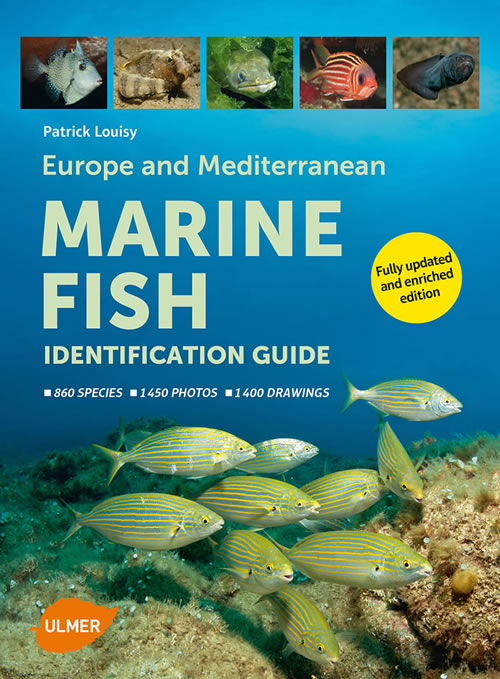 Europe and Mediterranean Marine Fish identification guide
Ouvrage en anglais
Patrick LOUISY
950 illustrations
ISBN : 9782841388110
Année d'édition : 2015
Epuisé
Il nous reste peut-être un exemplaire de ce livre. N'hésitez pas à nous contacter.
Already considered as a reference in most of Europe, this book is now presented in a new, completely reviewed and updated English version including the most recent scientific findings.
Comprehensiveness
This identification guide includes all the marine fish species that may be encountered in coastal of Western Europe and the Mediterranean up to 50 m depth.
Richness of illustration
It offers the vastest iconography ever gatherded on marine fish of the area: not only a profuse collection of photographs, but also line drawings illustrating the key distinctive features of each species.
A simple and yet rigorous approach
Although scientifically rigorous, this book focuses on simple visual criteria to identify fish in their environment. Fishermen and amateur divers will enjoy it as much as students or scientists!
Sommaire
Open water swimmers
Bottom swimmers
Bottom dwellers
Sharks and rays
L'AUTEUR
Patrick LOUISY

Docteur en océanologie, ichtyologue et aquariologiste, Patrick Louisy est également un photographe sous-marin reconnu.
Il a déjà publié plus de 30 livres sur la mer, les poissons et la plongée, et ses articles de vulgarisation ne se comptent plus.
Il est docteur scientifique de l'association Peau-Bleue, et chercheur associé au laboratoire ECOMERS de l'université de Nice-Sophia Antipolis.
The author Doctor in Biological Oceanology, professional aquarist and underwater photographer, Patrick Louisy is a leading expert in fish visual identification.
He has published more than 30 books and countless popularization articles about fish, marine environment and diving. He is presently scientific manager of the French scientific association Peau-Bleue, and associate researcher in the laboratory ECOMERS (Nice University).
VOUS AIMEREZ AUSSI